17/05/2017
Megaplas celebrates its 50th birthday
Megaplas, the subsidiary of FCC Group specialising in corporate image services, has celebrated its 50th birthday at its Arganda del Rey (Madrid) factory. The ceremony was attended by Carlos M. Jarque, CEO of FCC Group, who visited the facility to celebrate the birthday and to pay tribute to all the employees for their efforts and dedication over the last 50 years.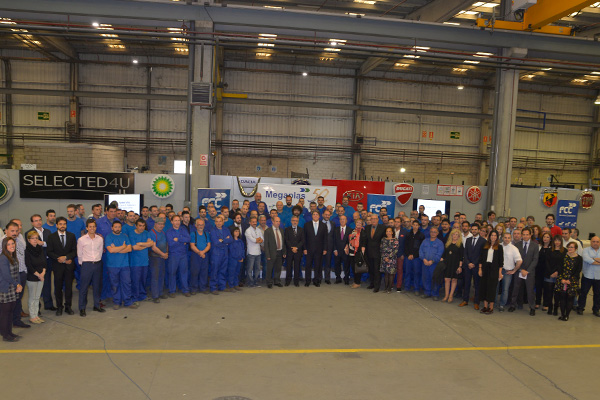 The ceremony was also attended by the General Director of FCC Construcción, Pablo Colio, and the General Director of Megaplas y Prefabricados Delta, Rafael Villa.
On his arrival, Jarque toured the factory where he met the Megaplas employees working in the various departments. Here they explained the various manufacturing processes and their working methods.
During his speech, Carlos M. Jarque emphasised the importance of the existence of Megaplas in the last 50 years. The family company was founded as a signs manufacturer in 1967. The CEO of FCC Group said, "reaching 50 years is in itself an achievement in this time it has had to overcome difficulties, continuously adapting itself to changes around it".
During his speech, Jarque reflected on the recent past of FCC and Megaplas. He emphasised the difficult moments that the corporate image company has experienced, and the changes in its model that the company had to undertake to respond to an ever more demanding and competitive market.
Carlos M. Jarque told all the employees during this tribute that, "Megaplas has reached this 50th birthday as a cohesive organisation that knows and shares its objectives. It is formed by a team of professionals with clear ideas and common objectives and it combines experience, youth and professionalism with the confidence that comes from having faced a critical situation and overcome it. Today, Megaplas enjoys a technological capacity for manufacturing and installation that makes it highly competitive at the level required by the market."
During his speech, Jarque thanked the company's team for its great effort. "You are an example of teamwork, of overcoming and of strength to continue building the future of Megaplas and for this you receive my warmest greeting." He also took the opportunity to wish them every success and urged them to continue working with dedication and enthusiasm.
The General Director of Megaplas y Prefabricados Delta, Rafael Villa, also praised the great work carried out at all levels. He gave the employees his most sincere thanks for a job well done, encouraging them to continue working in the same way, progressing and growing together. Villa then presented a video paying tribute to the 50 years of Megaplas.
About Megaplas
From its founding in 1967, Megaplas, a family signs manufacturing company, has grown and developed multiple additional skills that have transformed it into a truly integrated corporate image company operating globally.
The company joined FCC Group in 1992. In 1999, in a period of internationalisation and as a member of the ECCE Signs for Europe joint venture, Megaplas acquired a leading company in the sector in Italy, SanFilippo, which later changed its name to Megaplas Italia SpA. At this point it became the leading company in Southern Europe in its field. Megaplas currently has two facilities: one in Spain (Madrid) and another in Italy (Turin).
Among its clients it enjoys a strong position, with Grupo Fiat as its main client. In 2016 due to the hard work of the entire team it added BP and Yamaha to its portfolio. It has also had contracts with McDonald's, Repsol, Galp, Kia Motors and Citroën, among other recognised clients.